Cacik – A delicious Turkish Tzatziki
Easy Cacik Recipe – an amazingly simple turkish cucumber sauce that sounds a lot like Tzatziki, but isn't quite the same.
Scroll down for the recipe and for more info on the difference.
Cacik – "dschadschik" when spoken – is the turkish answer to the greek tzatziki sauce. And while there are a lot of similarities, there are some differences too. In the end tzatziki and cacik are not the same thing. I guess we could take a family (or your family) as an example. Let us presume you had a brother or sister. In this case you would share a lot of the genes your parents passed on to you. Nonetheless you are not the same and two distinct human beings. So, for the sake of this explanation I'll refer to Cacik and Tzatziki as brother and sister. In other words, Cacik ist a Turkish Tzatziki sauce.
What is Cacik and Tzatziki?
Now that we're done with the family business, let us move on a step.  Let's devote ourselves to the differences and similarities between these variations of cucumber dip. Fear not, we won't dig up nasty family issues here. This won't take much longer than a minute. While Cacik is a classic Turkish meze dish (Antipasti), Tzaziki comes from Greece. In order to make the differences clear, let's start with their shared ingredients. To sum it up, both are made from yogurt, contain cucumber and garlic. But the major differences are the kind of yogurt that is used and the herbs.
Cacik is a cucumber dip made with yoghurt from cows' milk and usually contains dill. Sometimes the yoghurt is drained overnight, in order to get a richer and creamier consistency. Tzatziki on the other hand is made from drained yoghurt too, but in a classic version you would use sheep yoghurt and no dill. In general, the greek yoghurt sauce is considered to be a bit thicker than Cacik.
Variations and uses:
But since nothing is carved in stone there is room for a lot of variation here. Here I have some ideas for you. If you make Cacik with plain yoghurt and grate the cucumber as a whole (without deseeding it), the end result will be more like a cucumber soup. Serve this chilled, and you have a perfect meze or appetizer that will cool you down on a hot summer day. If you want your Cacik to be more like a dip, it's best to use drained (greek styled) yoghurt. In the recipe below, I went with the second option, because I plan to eat it besides some grilled fish.
Altogether the combination of cucumber and yoghurt is pretty classic and every culture has its own name for it. With this in mind, here are some similar recipes: In Albania you can get Taratoi. In Bulgaria you would be served with Tarator and the Persian version is called Mast o khiar. So I guess the conclusion of all this would be that "Other nations have other cucumber dips". If you are still not satisfied, you could go and ask Wikipedia 🙂
If you like this dip, here I've a recipe for a simple Romesco Sauce which you might like too.
Cacik – delicious Turkish Tzatziki recipe
Zutaten
400 g greek yoghurt
1 medium cucumber
3 cloves of garlic (minced)
1 hand full of dill (finely chopped)
1-2 Tbsp Olive oil
Salt, pepper
Zubereitung
Cut the cucumber in half and scrape the seeds out with a spoon, to get rid of some excess water in the cucumber.
Grate the cucumber in a bowl and press out the water with your hands. If you want a Cacik that is more like a Soup, don't press the water out and leave the grated cucumber as it is.
Mix in the yoghurt and the other ingredients.
Season with salt and pepper and put the Cacik in the freezer for a couple of hours. Of course this is completely optional but I think it really helps develop the right flavour.
Serve and enjoy with some pita bread, or with some grille fish or chicken.
http://www.thekitchenaddiction.com/cacik-delicious-turkish-tzatziki-recipe/
You can also find this post (and many more) here: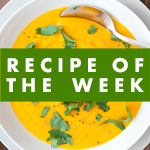 As always, let me know how you like the recipe in the comments section below, there's still lots of space.
I'm David and I'm a psychology student living in Austria. I genuinely love cooking delicious meals with fresh ingredients, and a decent glass of wine at the side. And of course taking photos of it..
Let me know what you think ...